This is the first of many beach articles that I'm going to share from my vacation in Greece. I've been away for 6 days and I visited 5 adorable beaches and can't wait to show you all of them.
Except the fact that we took a lot of pictures (which, by the way, on the beach are even more pleasant to take), I've been on a real vacation all the time, like I haven't done it in years. Since I have this blog, I've always wanted to share everything as soon as possible and not to leave huge gaps with no articles (like I did now). But now, I took a break from posting in the blog, plus I was offline 90% of the time and I was just updating my social media accounts, by adding some pictures from my vacation (one in the morning and one in the evening), I wasn't even responding on e-mails from advertisers. And I didn't just leave my online life for a week, but also got pretty careless about my looks and all. I didn't wear make-up while going out in the evening, no heels, no uncomfortable clothes, no diet and counting the calories in every bite, I didn't even washed my hair every day (even though I did swim in the sea every day.. eww I know). And I'm sharing all this because I'm a person who spends a lot of time, energy (and money) on beauty and looks and rarely takes a break. But I got back home yesterday looking like a cast away.. but a really relaxed and refreshed cast away.
We didn't have much time to plan this vacation and we choose something nearby- Greece (which as matter of fact, their seaside is closer to my hometown than the Bulgarian seaside). This was my third time in Greece,- their beaches are so beautiful and clean. But, I'm planing to see more of this amazing country by visiting a few places (islands) every year.
The pictures in this article are from my very first day in Greece- our first stop was Keramoti, a cute small town, popular among young people (it's also good for parties ;).
Това е първата от многото статии от почивката ми в Гърция, които ще споделя. Бях на почивка 6 дни и посетих 5 невероятни плажа, които нямам търпение да ви покажа.
Освен факта, че направихме доста снимки (които, между другото, както всичко останало са още по-приятни за правене на плажа), бях на истинска почивка през цялото време, както не бях го правила от години. От както водя този блог, винаги съм искала да публикувам всичко колкото може по-скоро и да не оставям големи дупки без статии (както направих сега). Но този път реших да не публикувам в блога, на всичкото отгоре бях офлайн 90% от времето и качвах снимки само в социалните мрежи (една сутрин и една вечер), дори не отговарях на мейлите си. И не само онлайн живота си оставих настана, но си починах и от всякаква рутина, не ми пукаше и за външния ми вид. Не носих грим, дори и за вечерта, без токчета, без неудони дрехи, без диета, ограничения и броене на калории. Дори не си мих косата всеки ден (въпреки че, я мокрих всеки ден в морето.. ужас, знам). И споделям всичко това, защото съм човек, който отделя много време, енергия (и пари) за външния си вид и рядко оставя нещата извън контрол, хаха. Но, снощи се прибрах и приличах на корабокрушенец.. но истински отпочинал, доволен корабокрушенец.
Нямахме много време да плануваме тази ваканция, затова избрахме нещо наблизо- Гърция. Това беше третия ми път в тази държава- плажовете им са толкова чисти и красиви. И все пак казват, че колкото по-надолу в Гърция (надалеч от България) тръгнеш, толкова по-красиво става, затова планувам малко по-малко всяка година да посещавам някое различно кътче от тази прекрасна държава.
Снимките са от първия ми ден в Гърция- Керамоти, малко симпатично градче, доста популярно сред младите хора (става и за партита ;).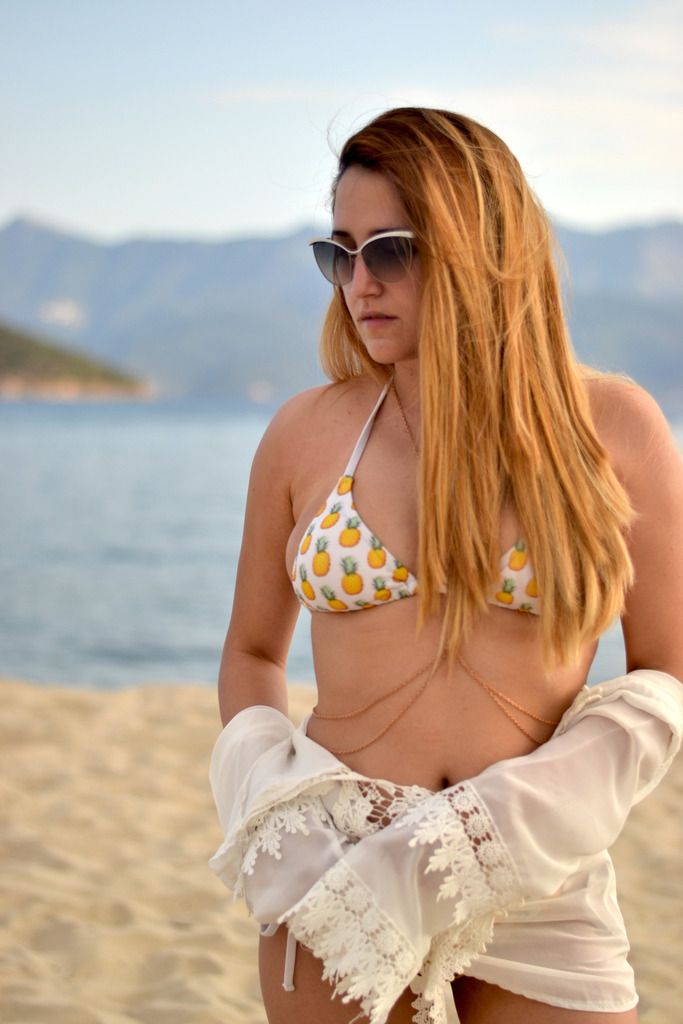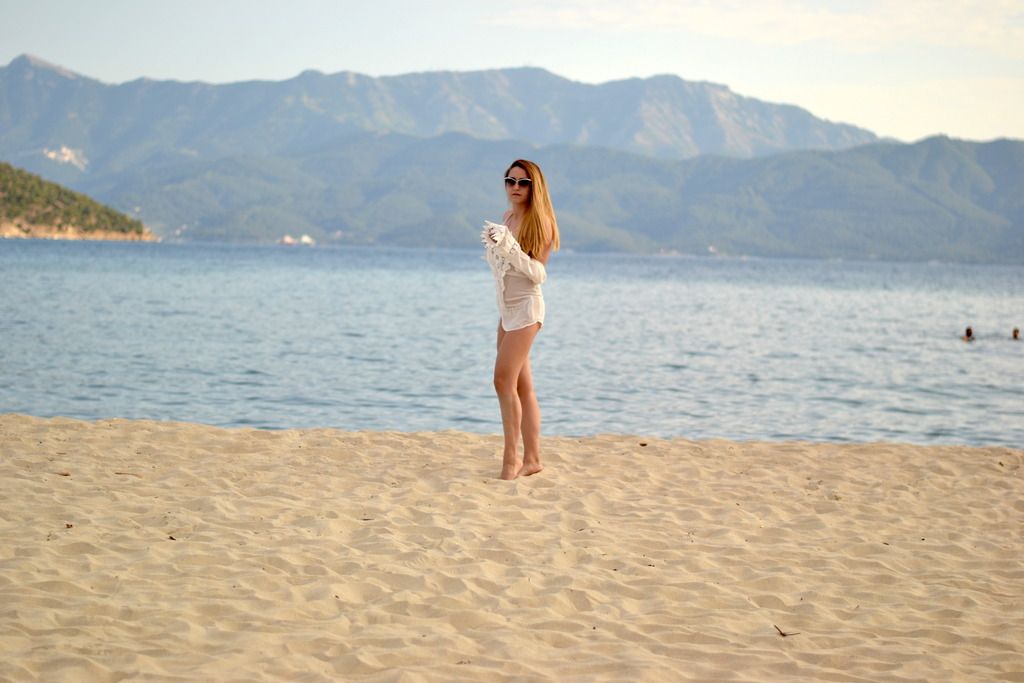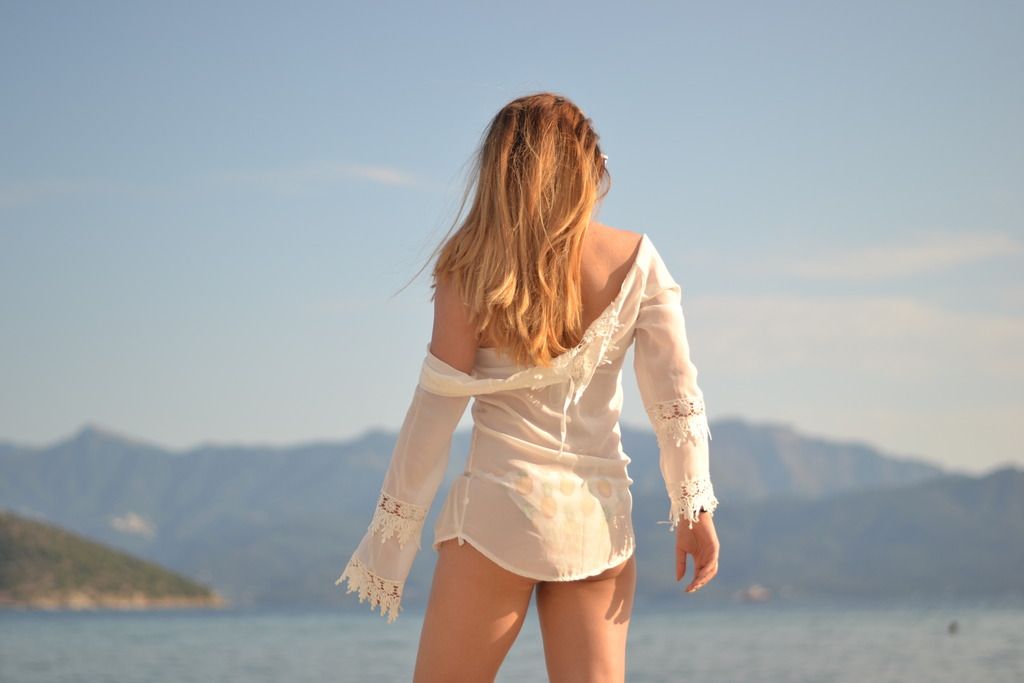 I'm wearing:
blouse- Dressin.com;
bikini- Pinkcess.com;
sunglasses- Moschino;
Shop this look: