The off the shoulder tops and dresses are the hottest trend for this spring and summer. Back in September during fashion weeks, when designers showed their S/S 2016 collections, we saw plenty of off the shoulder pieces.
Now every brand and online shop has them and today I picked my favourite off the shoulder pieces from both designers and affordable shops.
Блузите и роклите с паднали рамене са най-горещата тенденция за тази пролет/лято. Още през септември по време на седмиците на модата, когато дизайнерите показват пролетно-летните си колекции, видяхме доста предложения с голи рамене.
Вече и достъпните марки и онлайн магазини предлагат доста голям избор от блузи и рокли от такъв тип и днес съм подбрала любимите ми дизайнерски и достъпни дрехи.
Designer pieces:
1."Silk Off-the-shoulder Blouse"
2."Off-the-shoulder Lace Bustier Top"
3. "Leandra Patchwork Off-the-shoulder Bikini"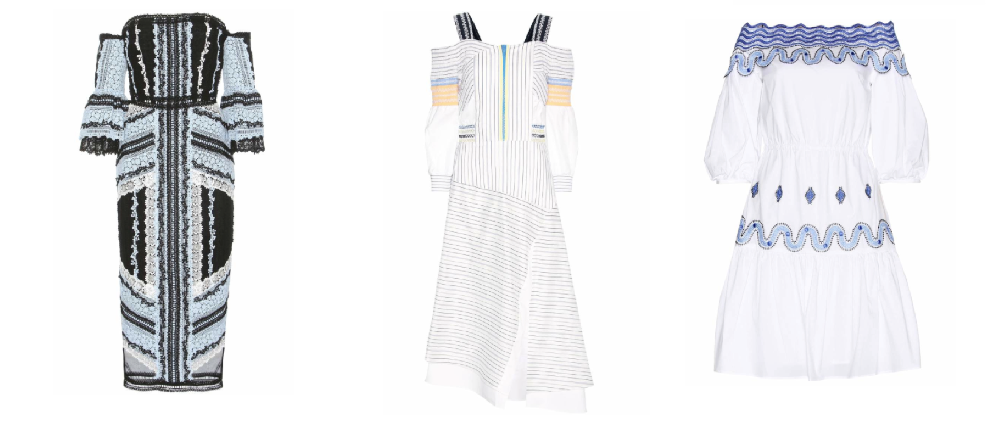 1."Sissy Off-the-shoulder Lace Dress"
2. "Off-the-shoulder Striped Midi Dress"
3. "Pallas Off-the-shoulder Cotton-blend Dress"
Affordable pieces:
1.Black Off the Shoulder Slim Blouse
2. Off The Shoulder Lace Insert Crop Blue Shirt
3. Boat Neck Slim Black Sweater
1.Scalloped Trim Off-The-Shoulder Dress
2. Pink Strapless Split Pencil Dress
3. Vertical Striped Ruffled Off-The-Shoulder Dress
first picture by: thehautepursuit.com