Just a few weeks ago Beyonce released her visual album "Lemonade" and if you've already watched it (or couple of times), you must have noticed the amazing styling. Well, the "movie" is a lot more than that- music, poetry and so on, but we will talk about fashion, as it was also one of the main characters in "Lemonade".
If you look at the visual album, you will see an African influence that touches on her heritage, where Beyonce comes from. There was a lot of African print and gold. There was a lot of white, antebellum vibes and hats and collars and braids, vintage Gaultier and McQueen. And In this article I'm going to show you 6 style tips that inspired me the most from Lemonade:
Преди няколко седмици Бионсе пусна визуалния си албум "Lemonade" и ако вече сте го гледали (или няколко пъти), сте забелязали невероятния стайлинг. "Филмът" е много повече от това- музика, поезия, танци, но ще говорим на модата в "Lemonade" като един от главните герои.
Ако се вгледате във визуалния албум ще видите, че има доста африканско влияние, което докосва произхода на певицата. Има много африкански принтове и злато. Има много бяло, довоенно настроение и шапки, яки и плитки, винтидж Готие и Маккуин. В тази статия ще ви покажа 6 идеи за стил от "Lemonade" , които ме вдъхновиха:
1.The yellow ruffled dress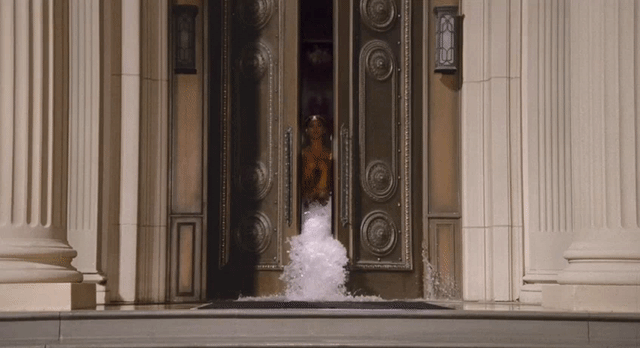 Not much of a styling tip, but a statement dress that will remain in history. In the video for the song "Hold up", Beyonce is wearing a yellow ruffled Cavalli dress:
Тази рокля със сигурност ще остане в историята. Във видеото към песента "Hold up", Бионсе е облечена с емблематична жълта рокля на Кавали: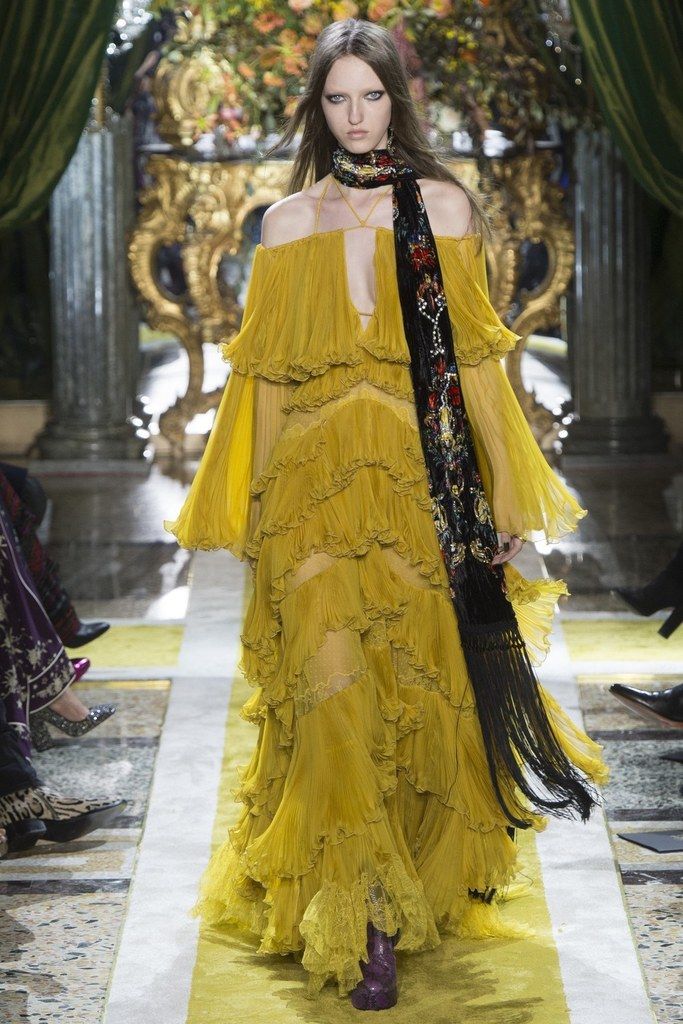 This dress was styles with platform heeled sandals and gold accessories. Yellow color is definitely memorable and attracting attention.
Роклята е комбинирана със сандали на платформи и златни аксесоари. Жълтия цвят определено е запомнящ се и привлича вниманието.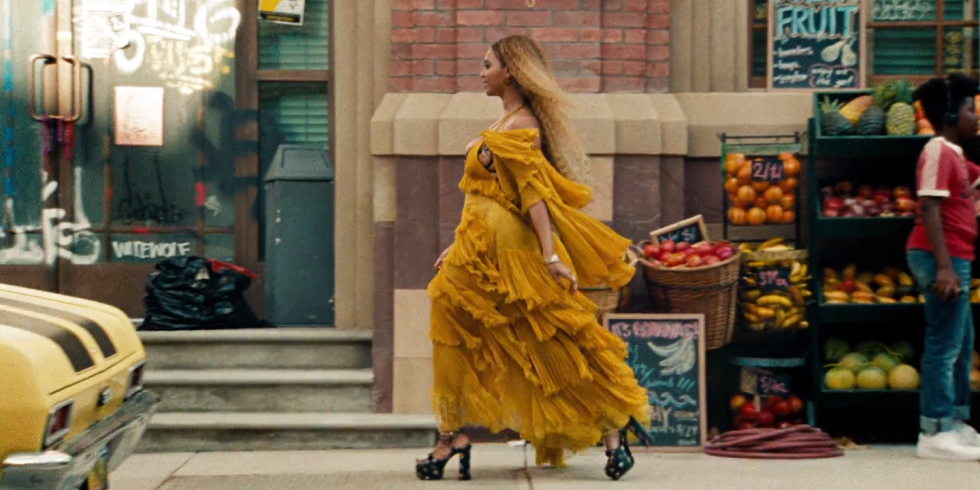 Here are a few pieces that will fit right into your spring/summer wardrobe:
Ето и няколко рокли, които ще се впишат в пролетно-летния ви гардероб: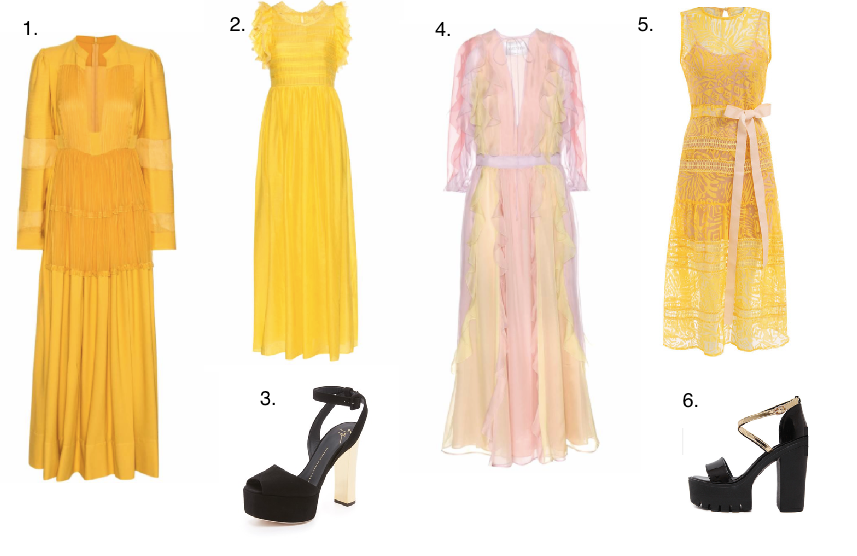 1."Pleated Silk Dress"
2. "Cotton And Silk Maxi Dress"
3. Giuseppe Zanotti Suede Heeled Sandals – Nero
4. "Silk Dress"
5. Sleeveless With Belt Dress
6. Black Open Toe Crisscross-strap Chunky Sandals
2.A lot of accessories together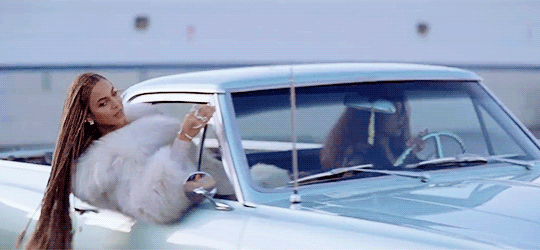 Too much can also look pretty obviously. In the "Formation" video Bey is wearing silver bracelets, rings, necklaces, earrings all together and combined with just white fur jacket or a black dress. The black hat is also a great stylish addition.
Прекаленото понякога може да е красиво, очевидно. Във видеото "Formation" Бионсе носи сребристи гривни, пръстени, колета и обеци заедно, в комбинация с бял кожух с косъм или черна рокля. Черната шапка също е доста стилно допълнение на втората визия.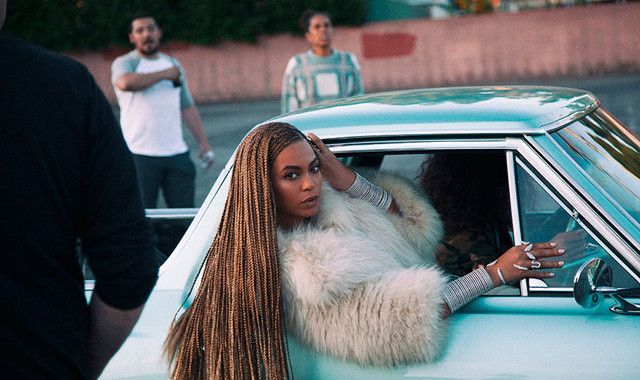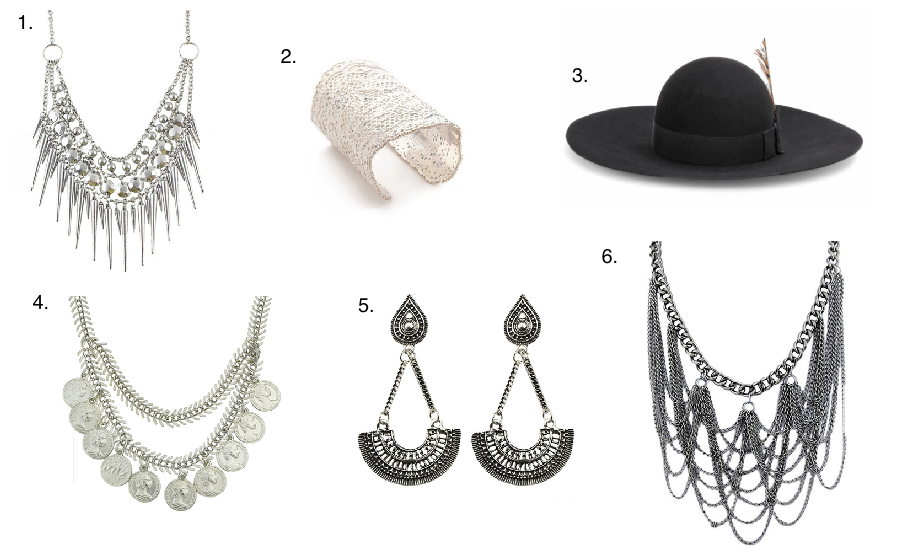 1.Steampunk Spike Collar Necklace
2. Aurelie Bidermann Lace Cuff – Silver
3. "Felted Wool Hat"
4. Silver Hanging Coin Necklace
5. Silver Plated Drop Earrings
6. Silver Chain Tassel Necklace
3.White collars and black details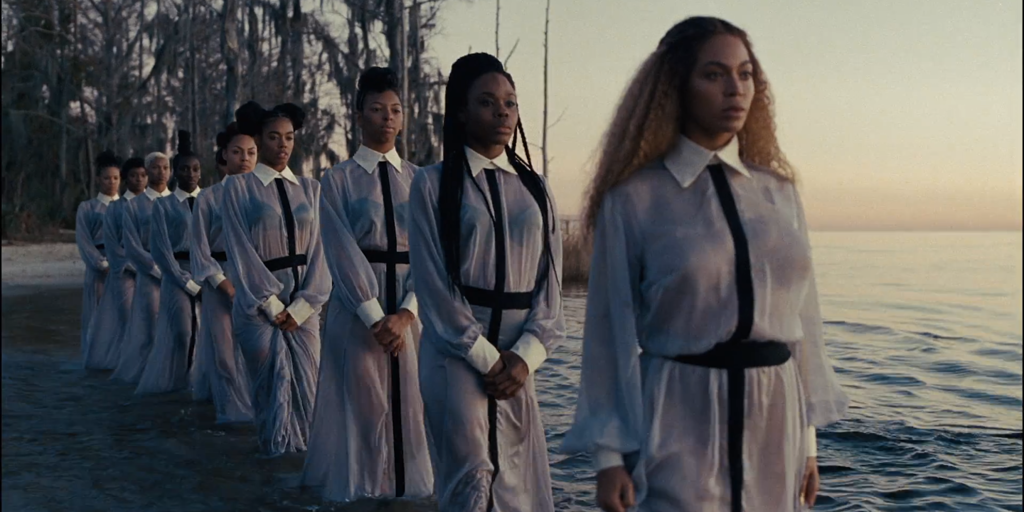 The scenes in the lake are quite impressive, not only because of the amazing nature, but also because of the girls wearing the same strangely beautiful dress. Looks like Beyonce is bringing the white collar trend back.
Сцените в езерото са доста впечатляващи, но не само заради красивата природа, а и също впечатление правят еднаквите красиви по абсурден начин рокли, с които са облечени момичетата. Изглежда Бионсе връща белите яки на мода.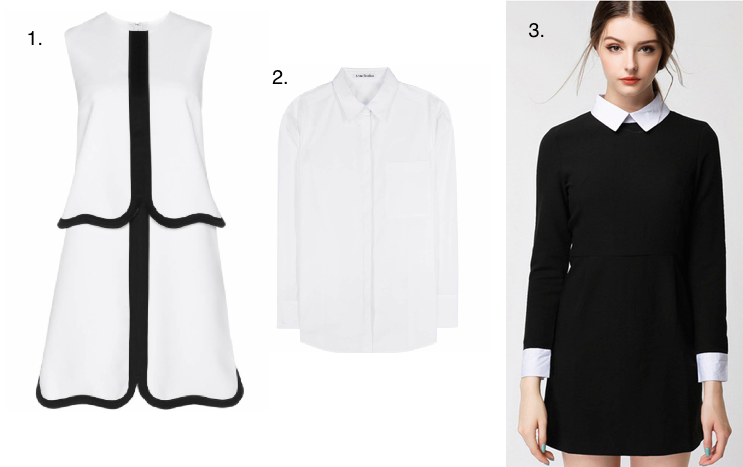 1."Wave Hem Shift Dress"
2. "Addle Cotton Shirt"
3. Contrast Collar Zipper Back Shirt Dress
4.All grey everything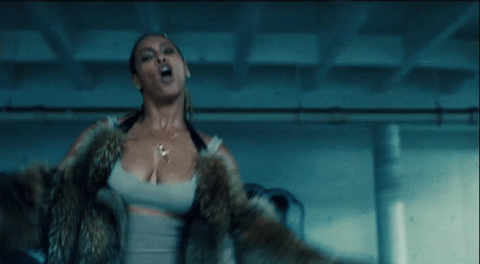 In "Don't hurt yourself" video Beyonce is wearing Kanye's brand "Yeezy"- another memorable stylish ensemble of grey leggings, crop top, boots and.. fur coat. Let's leave the fur, as we are approaching summer, but the all grey sporty-chic outfit is so cool.
В  "Don't hurt yourself" Бионсе е облечена в дрехи на марката на Канйе Уест "Yeezy"- още един запомнящ се ансанбъл от сив клин, изряран потник, боти и… палто с косъм. Да оставим палтото на страна, защото наближава лято, но сивият спортен шик аутриф е страхотен.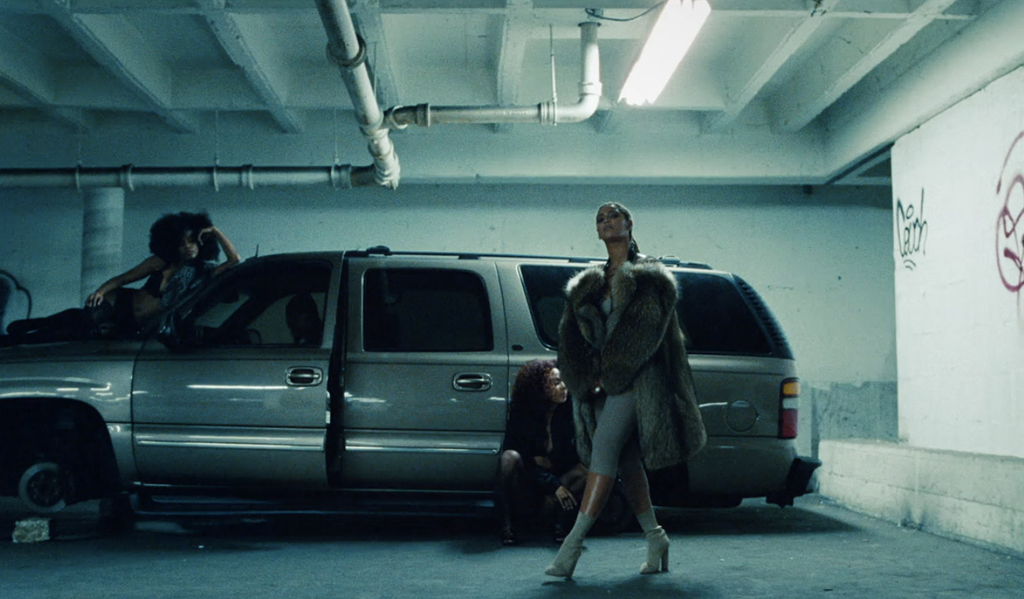 Here are some grey pieces you can add to your wardrobe:
Ето и някои сиви дрехи и боти:
1."Wool Leggings"
2. Spaghetti Strap Crop Grey Cami Top
3. "Suede Ankle Boots"
4. Elastic Waist Slim Grey Leggings
5.The combination of purple and green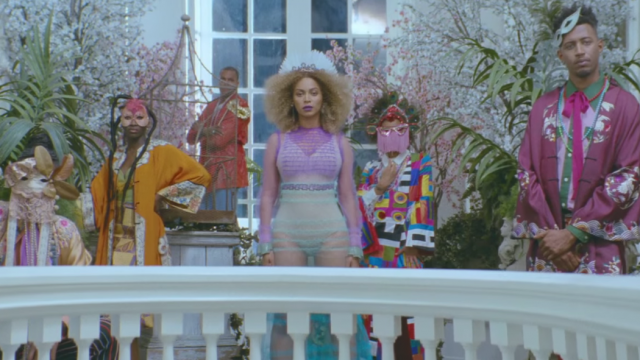 Another look from "Formation" where Bey is wearing this gorgeous dress by Gucci.
Друга визия от "Formation", където Бионсе е облечена в тази невероятна рокля Гучи.
This dress proves how beautiful and fresh the combination of purple and green is- definitely a must try this summer!
Роклята доказва, колко красива е комбинацията на лилаво и зелено- опредлено трябва да се пробва това лято!
1.Spaghetti Strap Slim Purple Cami Top
2. "Silk Pleated Skirt"
3. Layered Asymmetric Chiffon Tank Top – Purple
4. Green Elastic Waist Cotton Hemp Skirt
6.BRAIDS
And as for the beauty in Lemonade, again there's a lot of African influence- curly hair and braids, all kinds of braids! Here are some of the best:
Що се отнася до прическите в Lemonade отново има доста африканско влияние- къдрици и плитки, всякакви плитки! Ето и най-добрите: