5 Beauty Routine Changes To Make At Your Early 20s
After the article "5 style changes to make at your early 20s" was a success and I received positive feedback and many comments from you about how much you liked it, I've decided to make a part 2. But, this time I'm going to talk about the beauty habits- using cosmetics, creams, make-up.
The motto of this article must be "protect the skin you're in", because I know that when you're still a teenager, make-up is more like experimenting and skin care is not as important. And yes, by then you don't really need expensive cosmetics and creams. I must confess that, I too use make-up since very young age, (I started trying on some pink eye shadows in 5th grade :D) and my skin is absolutely fine now. Unfortunately, that can't last a lifetime and I see many girls my age who already have issues with their skin. Of course, it also depends on how good your skin is, but there are many things that you can do, in order to prevent dealing with bad issues at your 20s. So, let's say that when you hit the 20s, you should become wiser, you should create a beauty everyday routine and work on protecting your skin, because you will be in it for the rest of your life!
Here are 5 simple beauty routine changes that you can make at your early 20s, in order to look fresh at your early 30s:
1.Start using and learn more about white cosmetics a.k.a. creams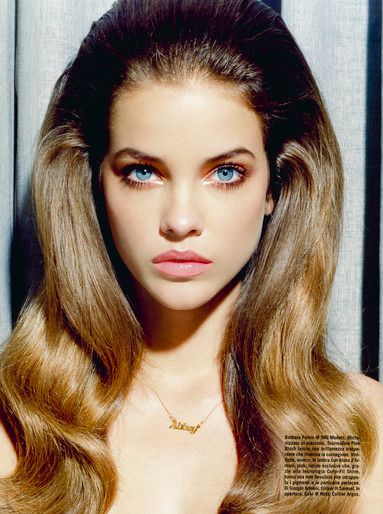 Truth is that putting anti-age cream when you already have wrinkles, won't make them vanish. If the cream is good, they might get smaller, but they won't disappear. Your skin needs hydration, it doesn't matter if you use make-up everyday or you don't use it at all. There are many factors that affect your skin's health, like the pollution, the sun, stress. You probably know a lot about make-up now, but it's time to discover the advantages of creams too, because if you start protecting your skin now, you will look young and fresh for a longer time.
I personally, use Decléor's products- Hydra floral cream and Harmonie calm eye gel- I apply both in the morning and also before going to sleep, they are perfect for young skin. Decléor products are 100% natural and I'm really satisfied with them.
2.Invest in high cosmetics
If there's something I learned about cosmetics the past few years, is that there is a huge difference between a foundation from 10$ and from 50$ for example, even if sometimes it doesn't look like that on your face. There's a reason why some cosmetics are more expensive than others and it's not only because of their name. One thing is that high make-up lasts longer and looks prettier, and second is that it's not as harmful to your skin as other cheaper products. I've always been spending a lot of money on cosmetics, actually I can say that I'm more willing to spend big amount of money on cosmetics, than on clothes. Your skin is no joke. Especially, products like creams and foundations that you put all over your face, you have to make sure they are good!
Another reason why you should invest in high cosmetics is that you will use them longer. I remember that when I was using foundation from 10$ for example, it was over in about 2 months. I'm using Dior foundation now, and I use it 6 even 7 months! And I use it every day. So, basically, I will spend more money at one time, but just twice a year, and if I buy the cheap foundation more often, at the end of the year, I would probably have spent the same amount of money for foundtion.
3.Sunscreen is your best friend
Especially during the summer season. Even if you're not on the beach, you should put at least SPF 30 on your face and neck, under your foundation. The sun is really stressful for the skin and it's one of the main wrinkles causer. Furthermore, it's also very dangerous for your health, not only for your beauty. At your 20s it's time to understand that, while on the beach, bathing yourself in oil and lounging under the sun at lunch time is not "cool". I personally use SPF 50 for the face the first 2-3 days and SPF 30 for the body. Then I go for SPF 30 for the face and same on the body or less. During lunch time, I'm always with protection and under the umbrella. I usually get tanned really fast, for like 1 day. Many of my friends are wondering how did that happen when I was under the umbrella almost all the time,  well the umbrella cannot protect you 100% from the sun, you still get tanned, you're just not frying yourself.
By lunch time, I usually mean from 11 to 4 o'clock, even though, I recently read an article that we shouldn't show to the sun from 10 to 6 o'clock, because the sun nowadays is more harmful. Anyway, this means almost all the day, so that would be too much, just avoid the hours when the sun is basically burning your skin.
4.Right make-up for the right occasion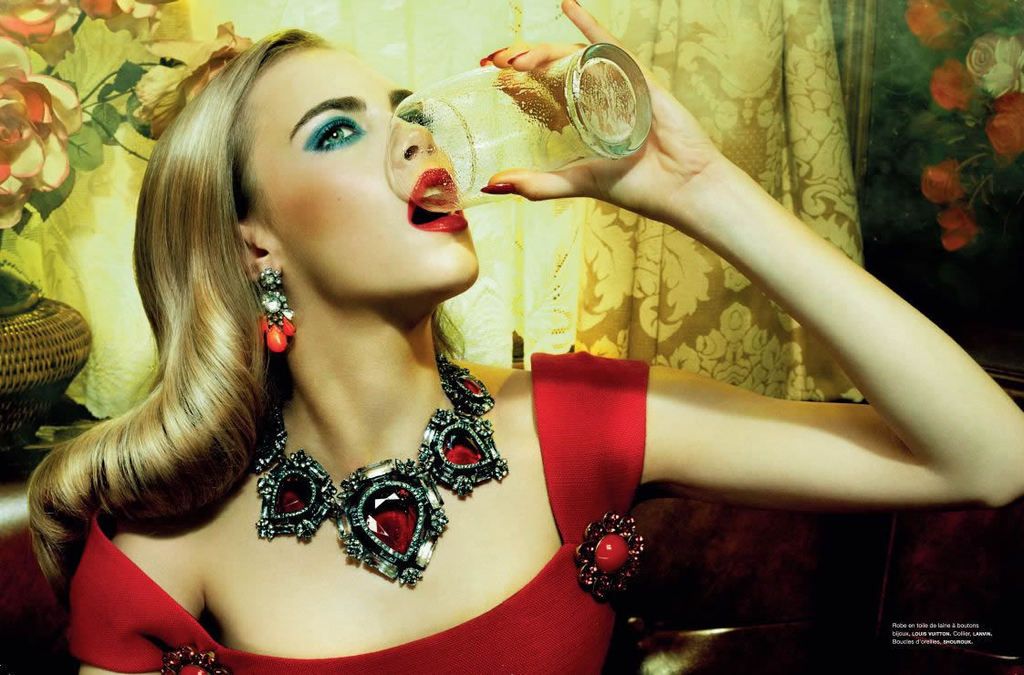 It's really important to start seeing the difference between make-up for day, make-up for night out, make-up for an event and so on. For everyday you can go with more natural make-up and you can keep the smoky eye for the night. Of course, you can still experiment and maybe, like me, some days you feel like wearing more make-up while others you just go with something basic, but there are some limits, you shouldn't pass. Especially, if you're going to some important meeting, like job interview for example.
What I'm saying is that make-up can really change people's perception about you and can change your destiny. I'm going to give you an example. At the office where I worked, they were looking for a new employe. And this girl with really strong make-up came for an interview- she had red blush, I was able to see it from long distance, purple eye shadows, she looked like she is going to work at some burlesque club. Or the circus. After interviewing her, although she had the perfect skills, college degree and everything, the bosses didn't hire her. And she wasn't going to work with clients, she was going to be on the computer, but the bosses' explanation was that she is going to distract other people in the office. Sad but true. We were distracted by her look for half a day and we saw her for like 2 minutes. Your make-up and clothes are reflection of your mind, interests and everything inside you. Therefore, if that girl thought that she was looking fine like that for the job she was applying (elsewhere she can wear whatever she wants), there's something wrong with her perception and that might reflect her work. And like Oscar Wilde once said "Only superficial people don't judge by one's appearance."
5.Masks for your hair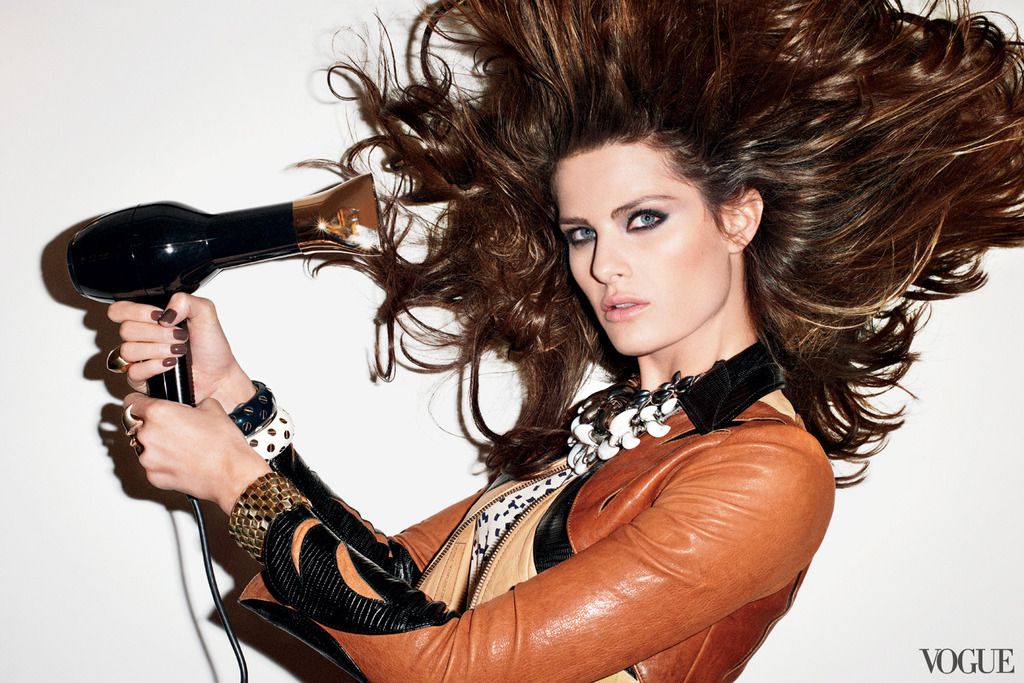 Last, but not least, we shouldn't forget the hair care. If you're using curling irons or hair straightener everyday or almost everyday and if you also have started dying your hair, the masks are really important. The hair gets dehydrated just like the skin does, from the sun and from all treatments that we do to it. Usually, I'm a fan of natural masks for the hair. I'm mostly making one with oil extra virgin and an egg- the hair becomes shiny and strong like in a shampoo commercial.
Making masks to your hair is as important as styling it, because if your hair is not strong and healthy, it cannot look pretty!
photos- Vogue